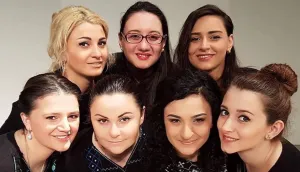 We are happy to inform that one of the top bands of female voices of Caucasus - Gordela (Georgia) will join us again this year.

TSU Gordela" is a Georgian folk group formed in 2007 at Ivane Javakhishvili Tbilisi State University. The leader of the ensemble is Vladimer (Tamaz) Mamaladze. "TSU Gordela" performs polyphonic folk songs as a cappella and by an accompaniment of the instruments as well.  
The members play the oldest Georgian folk instruments, such as – String instruments: panduri, chonguri, chuniri, lyre (changi) Woodwinds-pipe (salamuri), chiboni, larchemi; percussion instruments – drum, tambourine and garmon. Despite the existence of short time period, the ensemble became popular very quickly. The ensemble is a laureate of many music festivals; all this shows the high professionalism of the members.
We are thrilled to inform you that one of the most inspiring of new music projects rooted in folk from Armenia - Vishup Ensemble - will perform at One Caucasus Festival 2017!

Like a graceful river that both complements and continually redefines its landscape, the music of the Vishup Ensemble meanders through vast, storied swaths of Armenian history, at turns surging and gliding into domains that range from myth, lyric poetry, and metaphysics to gleeful ditties and the ploughman's song.
Vishup was founded in Armenia by flutist, vocalist, and guitarist Arik Grigorian from famous Armenian band "The Bambir" in 2015 when Arik Grigoryan started to work with drummer Eduard Harutyunyan, Hayk Karapetyan and was called "Arik Bambir Project" at first. Then the project moved to Los Angeles in 2016 and new members joined the band, including vocalist and pianist Areni Agbabian, cellist Artyom Manukyan and drummer Vardan Duvendjian. Then it came back to Armenia and other musicians, including Levon Arakelyan, Christin Yeghiazaryan and Amalia Hakobyan joined the group.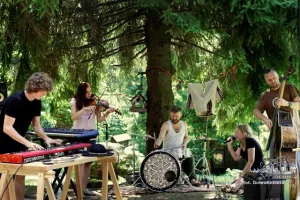 We are proud to announce first of the headliners of One Caucasus Festival 2017: the leading Polish band that merge folk of Polish mountains with contemporary sound and great energy: Psio Crew!
During One Caucasus 2017 Psio Crew will be working with musicians from Caucasus and beyond. This new international music project will have its premiere at the opening night of One Caucasus (Thursday, 24th of August 2017)!
The origins of Psio Crew reach as far as year 2004 in Bielsko – Biała, Poland. The pioneer fusion of traditional melodies with elements of drum and bass, trip hop and dub moved the music scene among the country and abroad, making the joint of original mountain singing with beat box the recognizable characteristic of the band. It is great news for fans of deeply folk rooted eclectic music – after few years of absence – Psio Crew is back!