Wherever you are now - Join One Caucasus Festival 2019. August 22-25. Georgia, Tserakvi !
By Car
To get to Tserakvi - you need to follow Marneuli-Sadakhlo road (Tbilisi-Yerevan route). If you travel from Tbilisi, you turn right in Shulaveri. Tserakvi is located in 72 km from Tbilisi (1 hour & 20-30 minutes by car)
If you travel from Armenia or from Azerbaijan (through the Red Bridge) - you turn left in Shulaveri. You go through Shaumiani and several other villages. Tserakvi will be the village coming after Sioni. Our campgrounds on the left side of the road when you arrive to Tserakvi.
By Bus
FREE BUSes SCHEDULE (apart from the ones that take only locals):
12:00 p.m, 4:00 p.m from Tbilisi - (Rose Revolution Square - near the Big Black Bicycle - in map ) stops in Marneuli (near Marneuli Culture Center): 1:00 p.m, 5:00 p.m - 2 buses;
1:00 p.m, 5:00 p.m from Marneuli - Culture Center 

4:00 from Red Bridge and Sadakhlo (also taking locals it  there are free seats) 
The buses depart 15 minutes after the end of show on the big stage (2 buses to Tbilisi, 1 for Sadakhlo - and villages on the way, 1 for the Red bridge and villages on the way).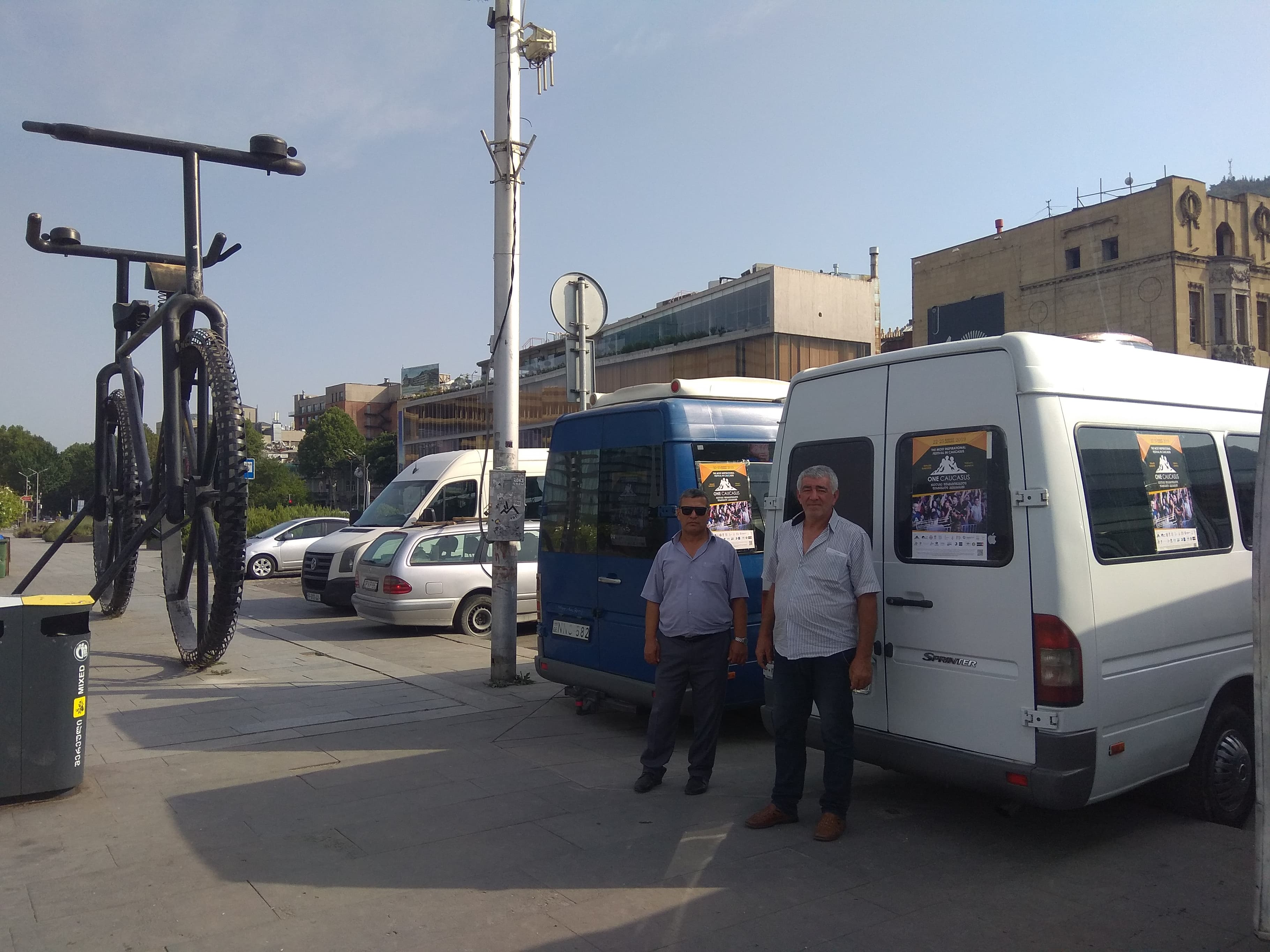 By Bike
Get to One Caucasus Festival by bike - learn practical tips on how to travel on bike through the countries of the Caucasus.
The first three long-distance bike travelers (documented travel for no less than 100 km by bike) who will reach Tserakvi for One Caucasus Festival will receive a special One Caucasus Pack (including One Caucasus T-shirt and other precious gifts). 
Accommodation    
Tserakvi village and One Caucasus Festival offer you free-of-charge camping field at the festival venue. You can also use a shower (refreshing temperature water) in the camping field and Eastern toilets (with running water) in the One Caucasus Town for free. You can take your own tent or rent a tent at the venue.
 Prices: the price of a tent - three person tent costs 20 GEL a night. Price for sleeping package (sleeping mat & bag) - one person per night costs 10 GEL. 
You can also rent a room in Tserakvi or stay in the hotel in Marneuli or Tbilisi.
*We recommend you to use a Magti mobile network as the most accessible mobile network for  phone calls and internet.
For more information about available accommodation you can always ask from our Info Point at the Festival venue. You can also benefit from special discounts of One Caucasus Festival for accommodation in Shaumyani Hotel located on the top of the mountain (15 minutes from the Festival Venue by car).
 If you cross from the Armenian-Georgian border (e.g. waiting for a free bus from the border), we can recommend you a restaurant and hotel (contact - Armen +37493280848).